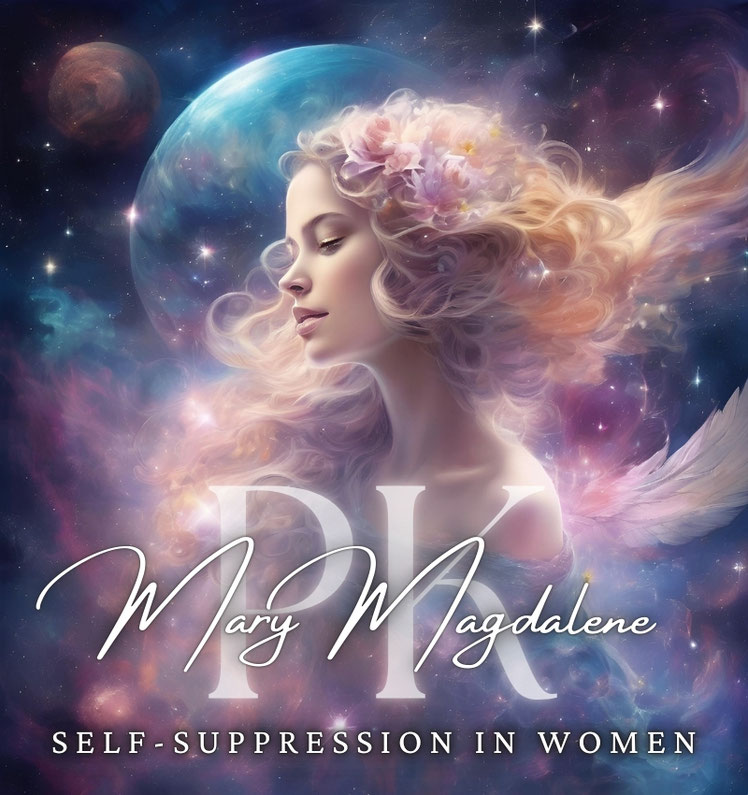 Pamela Kribbe channels Mary Magdalene


Dearfriends, I am Mary Magdalene.


I come to you from a deep connection. I am with you and feel your longings. I feel your sadness and reluctance to be authentic in this earthly atmosphere and to be who you truly are.


Holding back your creative energy, your insight, your zest for life inhibits much of your energy. The soul energy that is not expressed freely, and is turned inward, creates turmoil, pain, frustration. This is a very common phenomenon here on Earth. There is a great desire to live from your heart, from your passion and your soul, but there is also a great fear of it because living from your essence, from your heart, means that you are free, that you allow yourself to be who you are and everything that goes with it: the doubts, fears, and emotions, which include the stored up anger and rebelliousness. Through all the centuries, and during those several lifetimes, you have had to suppress so much of yourself that the creative energy –especially with the women among you – has become locked away in a secret room.


When a woman stands in her true power, she naturally connects Heaven and Earth, she is a channel for the energy of the heart, and she carries this power in a conscious way, while keeping an eye on her own boundaries. She breaks barriers and taboos in the social world, because a woman who lets her soul move is both earthly and heavenly; is free in her self-expression and penetrates masks and power structures. The female energy in its true form makes connections from the living heart, and in that way, she is a threat to power structures that want to keep things hidden, that want to keep things suppressed.


Just for a moment, feel in your abdomen the potency of your own female creativity. Go with your attention inward, descend into your abdomen, into the lower chakras. Feel that you are at home there, but that you have long been cast out from the center of your abdomen. That is where lies your grounding, the strength and the intuition of your female body, your sensuality, your intelligence from the eternal feminine. Not only have women been suppressed individually in the past centuries, the female energy itself has been expelled, rejected, put down, and, in a way, held captive, restricted.


As a woman on Earth, this has also happened to you; you carry the scars with you of this common history. The free woman who connects Heaven and Earth, upper and lower, heart and abdomen, is prohibited. In your everyday life, you have to deal with self-repression, with a reluctance to show your real self and also your emotions, your passion, and your insight. That goes not only for you, your own personal history; it is of a much greater scale than your individual history.


Connect with the fire in your abdomen. See if you can feel this at the level of your second chakra, which is in the middle of your abdomen. It is an orange fire; a fire that warms, invites, is full of new ideas, and connects. It connects on the human level by making connections and opening up people.


In particular, I would like to say to you: if you carry within yourself a healing energy and experience that you want to share with other people, then it is necessary to connect your heart to your abdomen. Why? If your abdomen is cut off and you live mainly from your heart, your energy then becomes top-heavy; you then absorb the energies of other people, of the energies around you, without the essential grounding that is necessary. You are then missing an anchor in yourself. It is therefore extremely important that you connect with the lower chakras, the foundation in your abdomen, in order to maintain a balance between yourself and others, between you and the world around you.


If you do this work, you need to give yourself sufficient nurturing and grounding. Otherwise, it creates an unbalanced situation wherein you repeat an energy pattern that has become deeply rooted in the female psyche, namely the pattern of giving too much, effacing yourself, and receiving too little in return. Too much giving of yourself eventually leads not only to inner weakness and a lack of boundaries, your creative female energy also becomes blocked and that leads eventually to dissatisfaction, frustration, depression – balance is then absent. But you are in the process of healing this imbalance in yourself, and doing so simultaneously affects the female energy in general. You are creating new paths in consciousness, and I honor and respect you for doing that.


However, there are still many taboos that exist in your heads against allowing yourself to come into your power. As a woman, you often associate power with selfishness. You think that choosing for yourself is an act of selfishness, so you immediately associate choosing for yourself with guilt or sinfulness. What is playing tricks on you here has to do with the history of oppression, not seeing the value of the female energy. Feel the power in your abdomen, your connection to the Earth; feel the knowledge and the intelligence in your female body.


Ask yourself: "What do I now need to nurture myself more, to become more anchored in myself, to make myself feel good within the rightful boundaries around me? What do I now need to arrive at a balance between giving and receiving?" Let what you want, what you deeply desire, bubble up spontaneously within yourself. Do not be afraid to be selfish. That whole taboo about selfishness is based on a false idea of spirituality that pulls people away from their earthly humanity. The soul wants to live in the material world and wants to be in a body in order to express itself in that way. The soul wants to experience life on Earth in your femininity or your masculinity.


Let the energy of your soul now move down through your legs. Take a problem that you are experiencing in your daily reality; something that occupies you, something you think about,  or struggle with. Now imagine this problem with both your feet firmly on the earth. You are powerful and centered, and you feel the power in your abdomen, the warmth of the fire there: your I-ness, your individuality, your originality. This is you, and it is allowed to be. There is no censorship, no taboo on what you feel and what is important to you.


Let that energy flow through you, through your abdomen, your pelvis, your legs – feel free. And then take a look at the problem you have struggled with for quite a while. How does it feel if you look at it from power, from self-awareness? What then comes to mind ? How do you feel about this problem? What do you need? And look at what is most troubling to you in this situation, at what hinders you. Is it something coming from outside? Or is what is blocking you, and keeping you down and not allowing you to be free, coming from your own mind, from something within you?  Look at it objectively. And if you discover that what suppresses you and holds you back is inside yourself, then take a good look at it and be glad you discovered it, because that means you can change it; that you do not have to depend on other people and situations outside yourself.


You have the power to create your life, to give it form in accordance with your unique soul. Believe in that power. It is the most precious, the most valuable thing that has been given to you: your powers of creation as a unique individual soul. I embrace you and I am with you. You are not alone in this life. There are forces around you, friends from the other side who are always with you. There is always light around you – remember that. There are always possibilities and new choices.
Thank you so much for your attention.


Translation by Maria Baes and Frank Tehan


© Pamela Kribbe
Stay informed of new developments
❥ Sign up to the newsletter